Group Programs and Workshops
The Empowered Childlessness Method 
and 
Cosmic Smash Booking. 
Every 3 – 4 months I run a Weekend Workshop and either a 40 days or 90 day Program. 
Each workshop and program has its own very different essence and subject matter, I believe that this creative work has it's very own intelligence and I completely trust the process. 
The work is always for the Empowered Childlessness community, whether from loss, circumstance or choice.
THE NEXT WEEKEND WORKSHOP

We start on the full Moon
1st October – 2hrs – 7pm UK, 8pm Italy, 11 PT, 1pm ET  
                 2nd October – 2hrs – 7pm UK (as above)
                3rd October – 3 hrs  – 4pm UK, 5pm Italy, 8am PT, 10ET 
                4th October – 2 hrs – 4pm UK (as above)
All sessions will be recorded
 No Creative Experience is Necessary 
Materials
A cheap Journal or Composition Book  
(ideally stitched together like an exercise book)
A piece of paper or card large enough to cover the whole book
a pen
colours – pencils or pens
magazines
watercolours – cheap ones
glue
Red wool or thread
5 ribbons
oil pastels optional
Your favourite beverage
a candle (optional)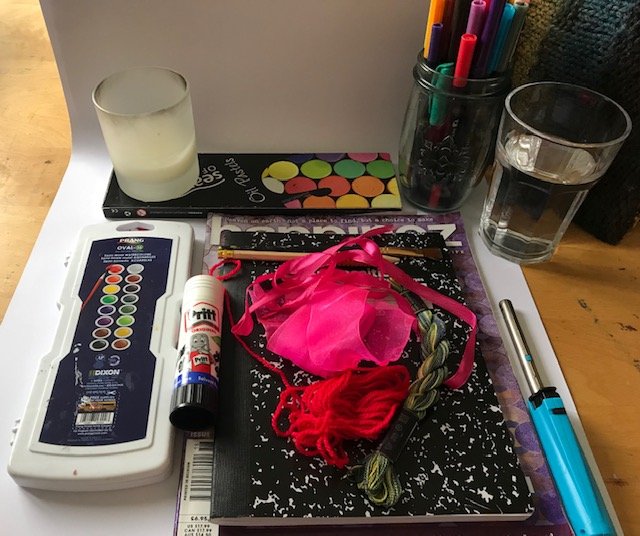 Your Investment:
Time – 9hrs
 Cost valued at £125 / $160
 As a special offer for this week, I am giving this to you for
 £35 / $45  
(from Friday 25th Oct is will cost: £47 / $60) SAVE NOW
For ask any questions don't hesitate to contact me on helen@empoweredchildlessness.com