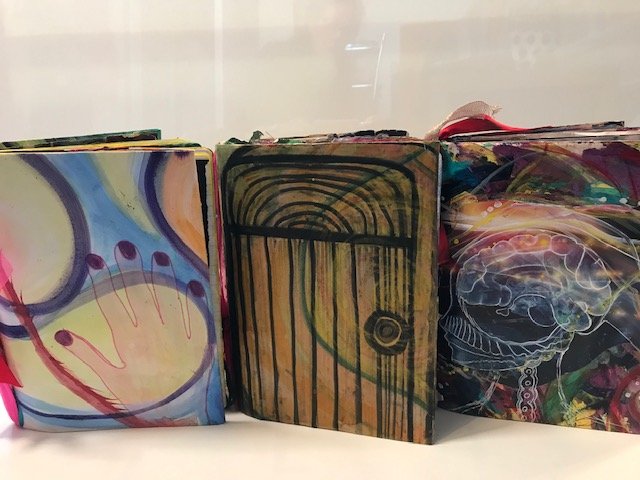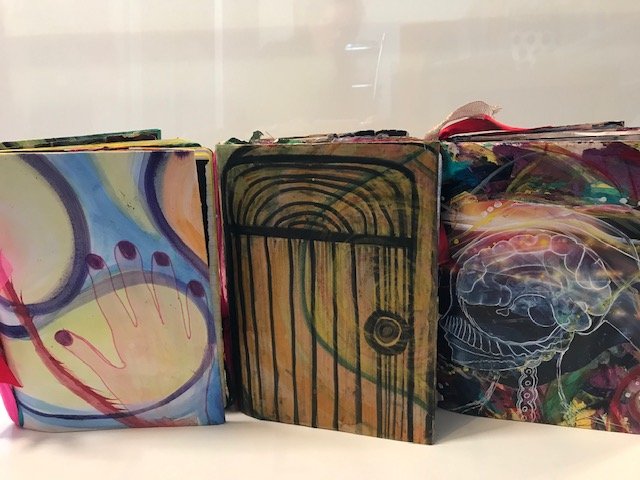 What is Cosmic Smash Booking?
Cosmic Smash booking is something that began for me in 2019 while working with Amber Kuileimailani Bonnici owner of Woman Unleashed on a year long Creative Productivity Coaching Program.  There we Smashed regularly and I was able to meet Catt Geller. I completely fell in love.  I felt and saw first hand the power of the processes and how well they combined with therapeutic work and intuitive practices that I had been doing for myself and with my clients.
I made a decision to become a certified Cosmic Smash Book Guide and teach this immensely beautiful fun empowering process with everyone I came into contact with.
It begins with a cheap sketchbook / composition notebook, then by engaging the 5 senses, crumpling paper and getting messy we transform it into a sacred safe space to connect to the self and our unconscious.
Cosmic Smash booking combines art journaling and Intentional Creativity (founded by Shiloh Sophia McCloud Lewis and her mentor Sue Hoya Sellars).  It is a place that I turn to process both my external and internal worlds. As I create pages, get messy, follow my intuition and write, I get lost in a beautiful world of wonder and curiosity, which ultimately leads me to new wonderful insights and perspectives.  It is such a quick way to our unconscious.  Every page seems to have its own unique personality and voice.  It truly is amazing to see the pages come together telling their own story and I find it amazing how this process supports and helps me embrace my life journey.  That is the magic of Cosmic Smashbooking. It helps me, not only get things out but heal them, builds my confidence and intuition, as I learn to trust my intuition and creative muse.  This not only heals in the present but in the futures as it builds new neural pathways in my brain to reflect and respond differently, to situations or how I feel.
This ordinary sketchbook/composition transforms into a wonderful safe container for self-reflection and self-inquiry. Infused with the creators own energy and intention, the book is a portal to a new world, a new view, a new you – whatever you wish it to be.
It can free creative expression, and leave expectations and inner critic at the door, once and for all.
Here is a short video of my Smash Book from The Forty Day Create your Life Program in June 2020.  Each program I create my own Smash Book right along side the participants, so you are never alone in this process.