Are you ready to learn to Grieve With Gusto?
Loss isn't new to you, but you've been hiding from it, afraid to face it head on.
What if you lose yourself?
What if you never find your way back to you?
 Grieve with Gusto is a
Creative and Radical Approach
to Getting Unstuck and Living Life Again.
😬 No more giving yourself a hard time
 🥺 Feeling constantly anxious, isolated and lonely 
 😔 Feeling unhappy and passionless
 😕 Wearing the busy of honour to distract yourself
 😢 Procrastinating on things, even when you want to do them.
By healing through art I help you to turn to face your grief fearlessly and stop running away.
Find a way to meet yourself exactly where you are.
You don't have to deny your loss anymore or make it fluffy to appease other people.  
You can stop lying to yourself now.
I will teach you how to create safety so you can remove your brave face.  
This program offers you the chance to express yourself through your creativity.
But don't panic, you can absolutely do this work even if you don't feel you have a creative bone in your body.
We are all born with an innate ability to create and I can prove it to you.  
Now it's your time.   Let me help you.
Who is this program for?  
Would it be suitable for me?
In short, it's for women and men who are childless / childfree from loss, circumstance and choice.  
You must have the willingness to put pen to paper and brush to paint. 
Whilst the programme was created specifically to explore the grief of childlessness, you do not need to start there.  Apply the principles of the program to what you need.  
The program is for all that want to find a successful way to grieve creatively.
What Does The Course Involve?
Grieve with Gusto is a Self Study Program
You will be guided through 12 lesson and supportive prompt sheets.  
Ideally you will work through a lesson a week, though pace is completely up to you.
Each video is approximately 1 hour in length.
Testimonial from a participant
"I am really touched and inspired by your intro video's. !
You have such a lovely, smile and uplifting, and welcoming energy.
Plus it helps so much that you are so down to earth and authentic and honestly you
" Jade
You will be provided with a materials list, all of which can be found online or at your local store.  
I use inexpensive items, as you can see below.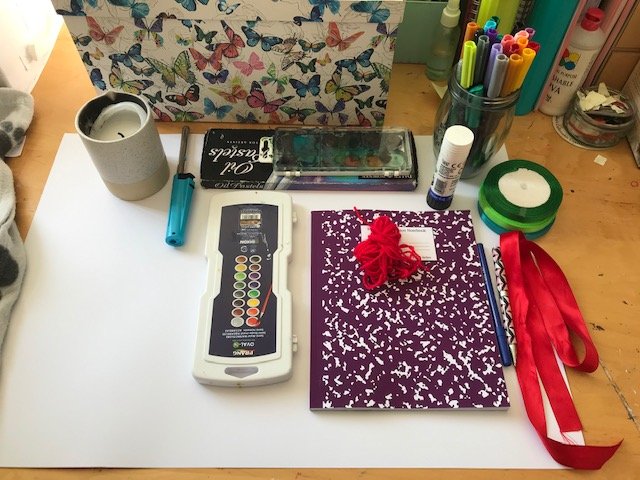 A Brief Breakdown of the Program
Please note that this may slightly differ, as I continue to evolve the structure and formate over time. You will have their own journey through this process, which needs to be trusted
 * The Safe Container
You will learn to set a strong boundary and heart intention around this time for yourself.  
 * Resistance
At the start of any journey there are always murmurings from our Inner Critic, gremlin (inner cow). I will show you a way to work with these before moving forward. 
 * Self Care
Exploring and creating a safe place to come back to again and again and again. This week I show you how to create a page to come back to when you are feeling unsettled and ungrounded. Time and time again you will find this priceless.  
 * Becoming Aware
This week we will explore grief and secondary grief and unveiling what is not known to you right now. I will give you a space to be honest with your losses and grief. It is important for us to know what we are working with.  
 * Our personal journey
It is so very important to explore our personal stories, so we get to shine a light on this. 
 * Allowing our Truth to Emerge
With the work done so far I show you how to create and process the emotions that are starting to arise. We do not have to be afraid of our emotions and there is great power here.  
 * Sowing our Seeds
Clearing away brings space and within this space something will want to come forth. I help you to continue on this journey, embracing and empowering yourself as you go.   
 * Dialoguing
I teach you the joys of communication with your images and work. There is much information that comes forth.
 * Exploration of What's Next
You work will give you a path to go down. Travel with me as you see this open up for you too.  
 * Regret & Guilt
Are two emotions that can get trapped in our grief and loss. You will get to see me explore these and encouraged to do the same. Are you holding onto regret or guilt? 
 * Permission and the Reveal
There will be a time we get to say good-bye and hello to what wants to be revealed to us. Only once this is done do we get to see what wants to be revealed to us. Travel down this path with me and be encouraged to create this amazing page for yourself.   
 * Expressing what was Unknown
Celebrate and lean into your learning and growth so far. Creating your next steps for the coming weeks.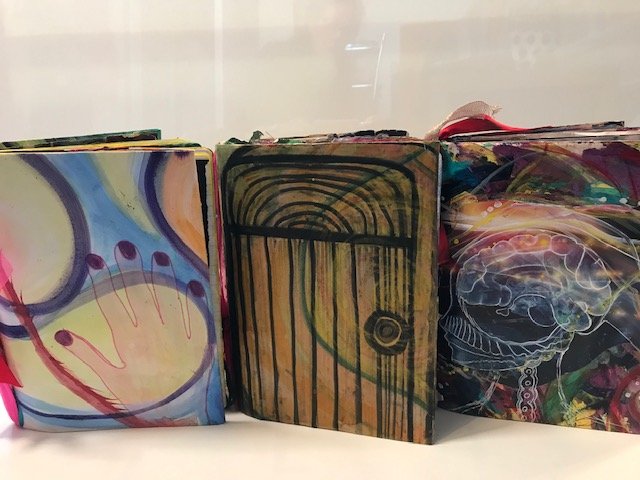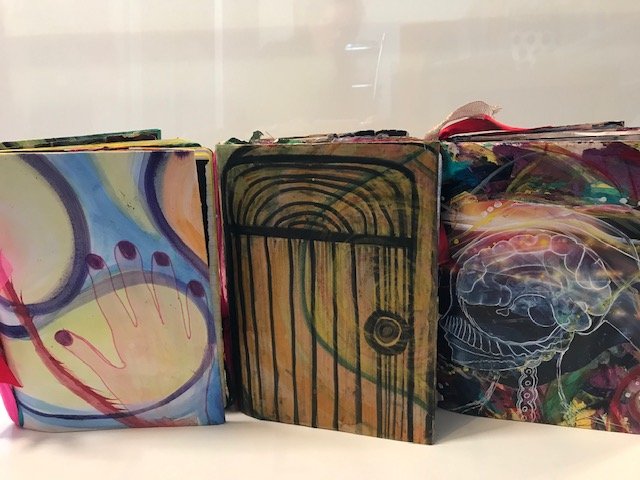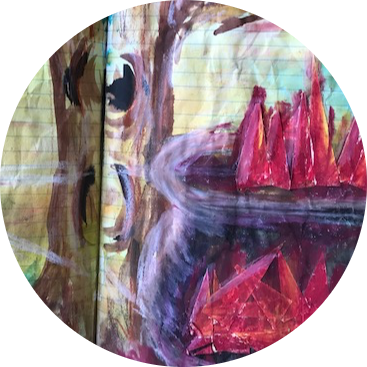 12 x Creative Healing Lessons:  I walk you through this creative process.  
Learn to use creativity to open your heart so that you can start to see new possibilities and heal the story that something is wrong.
Prompt sheets: 
Each Lesson comes with prompt sheets.  Helping you on your journey.
A private Facebook Page:  
Sometimes the hardest thing on this journey is feeling alone. When things come up throughout the week, connect with others in the private group, you will not be alone.
Life long access to the program
Add Private 1:1 Sessions
Sometimes you don't want to make any more decisions, you don't want to take responsibility.
Sometimes it would be nice to feel held, cared for. To simply do the work, safe in the knowledge that someone else is guiding the process for you.
If this is you then you can choose to work with me personally as you go through the program.
I will hold space for you, support you and guide you towards a deep sense of peace.
Choose a one off private session or packages of 6 or 12 sessions.
Helen Segal

 
When I started to look my grief straight in its face and honour what I found, I started to find myself and flourish.  
I stopped feeling lost and stuck.
I started to feel more powerful, connected and able to take action toward my future, giving me more direction and joy in my life.
Join me to:
 ♥️

not hide from grief ever again, 
 ♥️ give grief some space to breathe, 
 ♥️ face it like a friend, 
 ♥️ use it to live a healed, inspired and joyful life. 
Come and experience the magic of this process!
This program is not just for 12 weeks.  Just like grief if not just for 12 weeks.  This program is yours for a life time.  You can either go at your own pace or revisit the program again and again, as and when you need too.
I've walked this path forward and continue my journey with love and kindness. I have 27 years of personal growth, 17 years as a Teacher and Counsellor combined in the Healing / Therapeutic Arts. I am incredibly empathic, and I believe in you, I know you can embrace this journey, grieve with gusto, release what's holding you back and reconnect to your joy, vitality and freedom now. 100%!!
What this Program is NOT!
Though this program is extremely therapeutic and has many therapeutic tools, it is not therapy.  
It is not an alternative to 1:1 counselling and support.  It is important that you go gently and know that emotions will suffice to be processed and healed.  
Helen's, your pop-up workshop "Exploring Grief" was very meaningful to me. The safe space you provided, the vulnerable way you shared your own story, and the creative practice you led us through allowed me to befriend my grief in a way I could not have imagined on my own. Thank you so very much. Sincerely,
I recently attended Helen's pop up workshop and was impressed as she is a talented, caring and compassionate coach that helps you step out of the chitter chatter of your mind, go into your subconscious/creative part of your brain to find your own personal answers via art.  This is not about making master pieces it is about finding "peace".  No stress if you can't draw – she will also help you with that "limiting belief"
Helen's workshop led me on a journey within myself where I somehow connected to a deeper source of wisdom and found connection and an answer that I wasn't aware I needed. Thank you
"The Creative Workshop for Mother's Day with Helen helped me to navigate a stressful time in my life. Helen's presence is attentive, inspiring, and calming. Through her creative process I feel ready to face the Day."
I did the mother's day. It was my first workshop with Helen and I found it wonderful. Helen guided and led us through a series of therapeutic creative exercises and I was very surprised by the result. I don't easily get in touch with my emotions but during the workshop I could see underneath and I am very happy with the achievements. Helen created a safe, trusted and loving space where I could freely express myself. I loved it
Really cannot express how much I encourage everyone wanting something to change in their life to take up this course!  I have thoroughly enjoyed and grown from this course so so much that I want everyone else who is struggling to feel like I do, full of energy and light and excitement.  
If even a small part of you has read Helen's email and thinks 'oh, that sounds interesting' or 'I agree with everything she has said but is it for me?' (which was what I thought before I went for it haha!) absolutely go for it…
I joined Helen on the Lets Begin course – I was nervous and didn't know what to expect and how it would work using the Zoom platform.
My worries disappeared as soon as the course began. Helen is an excellent guide mentor, really passionate and caring.  I thought I wasn't arty that soon evaporated and I was creating, exploring and connecting to all the other wonderful women on the course.  We were all so supportive of each other, holding space and compassion for each other, loving the fact that each of us was growing and getting so much out of the course.
The 40 days went by so quickly, I learnt so much and got so much out of the course, it was a real gift to myself and I am so glad I took the leap and started. I would recommend it, a great way to create, explore and have fun!!
Imagine at the end of 12 weeks feeling more connected, freer and Joyful in your life.
This is a life time access program, so you can go through the program again and again to support you in your life.  
In love and kindness
Helen
P.S. When it comes to exploring grief, know that you will be doing something that your grief may be saying yes too.
Join me and others walk the path towards healing, reconnecting to you and your joy.  You deserve it
P.S. If you have any questions, email me at helen@empoweredchildlessness.com